Worknet supports integration between Slack and Salesforce service cloud.
Your team or your customers can simply mark a Slack message that needs to create a case in Salesforce and Worknet will do it. All follow on messages will also be synchronized back to Salesforce.
You can benefit from the best of the two worlds:
Slack - team collaboration space. Inside your company and with your customers.

Salesforce - reporting, SLA, knowledge management
Here are the steps to enable the integration. To perform it you need to have Salesforce admin permissions.
Salesforce side - Install the Salesforce Worknet package from the Salesforce AppExchange use this link.
Worknet Slack app side
1. Navigate to the Worknet app in your Slack workspace.
2. Click the [Actions] dropdown at the top right corner and pick Team Settings.
3. Click the [Config] Salesforce integration action button.
4. Click the button next to the Settings
5. Enter the subdomain name that you are using for your Salesforce instance and [Submit]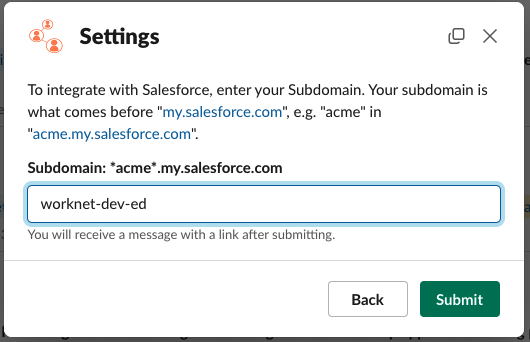 6. You'll receive this message in the message tab of the Worknet app
7. Click Connect to Salesforce - to allow the access of the connected app.
Click [Allow]
8. You'll get this success message.
Done.
You should be able to create cases in Salesforce from Slack by clicking the :writinghand: emoji at the lack parent message level or use the [Salesforce] action button